I recently got the opportunity to review one of a list of reusable
lunch boxes
from Reusit. I chose to review the
Large Natural Cotton Lunchbag
pictured below. I am in love with this bag. The handle holds well. It velcros at the top. Now it won't keep things cold as it's not insulated, but it makes a great go to bag for putting snacks for the littles in for trips or car rides.
The little girls love to add their snack containers to the bag and then they swing it back and forth to each other in the van. Of course, my piggy Zyera likes to take all the snacks out before giving it back to Fionna which makes Fionna mad!
The lunchbag I received
In use(ok so I put a cloth diaper in it at Fionna's insistence, but you get the picture)
This is an awesome way to save money on those plastic sacks for treats and it's cute! Stay tuned for a giveaway coming up featuring Reusit Lunch boxes!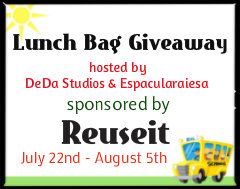 Pin It Now!