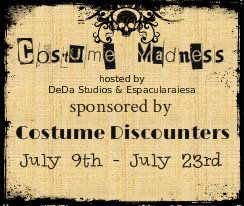 I recently was given the great opportunity to review a costume through
Costume Discounters
, or rather I should say my son was! Yeap we got a costume for our littlest boy who will be turning 4 on July 1st. We got the Cowboy Sheriff one and he couldn't have been happier! The jacket/duster does not have fastenings so it easily will fit several children. He loved the hat! I ordered his costume big so that older brothers could wear too and it would fit for a while. I also ordered big because he has a big head. The vest is super cute and has velcro closings. The only problem we had was with the star falling off after pinned. I think this had something to do with my children being overly rambunctious. . . .
All in all we loved it and I'm sure we'll be wanting to try more in the future as the other kids are already telling me what costumes that they would like to have!!
Enjoy our pictures below and don't forget to check back on July 9th to enter for your chance at winning a costume. Several other blogs are also offering a giveaway with this company at the same time so there will be a linky for you to enter us all!!!
Get a head start by liking on
facebook
and following on
twitter
!
Opening his early birthday present. The hat got him all kinds of excited.
Showing off the costume.
Tada! Yeap he's a goof!
Whoops the hat slid down.
Waving to baby sis.
Pin It Now!