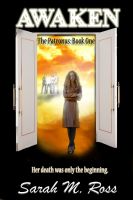 I recently was given the opportunity to read and review the book
Awaken(the Patronus)
by Sarah M. Ross. I read this book and wasn't sure what I wanted to say in my review. I have to admit I skipped over some parts of the book as they weren't ones I was comfortable reading. This book does have some language and content issues that I wasn't comfortable with, but the book itself was very good.
That being said, here is a short synopsis of the book from
Amazon:
Lucy Donovan was supposed to have a weekend of fun in the sun, celebrating her upcoming graduation from college. In a split second, everything changed. A drunk driver ended Lucy's mortal life.
Lucy opens her eyes to a world she never imagined possible and a new destiny: as a Patronus, a guardian of spirits. Adjusting to her new role and abilities while negotiating this confusing realm will test her limits and push her further than she ever dreamed she would go. From wayward spirits who don't want her help to soul stealing vampires, and even a stuck-up British royal, Lucy must brave them all to save one spirit she can't bear to lose.
Further complicating her confusing life is an inexplicable yet growing connection she feels to a member of her team, Max, whose mysterious behavior leaves her both confused and intrigued.
Waking up dead was just the beginning of her problems. Lucy's death is about to become the greatest adventure of her life.
My thoughts: This was a wonderfully written book. Sarah Ross as an author has a wonderful ways with words, she has done an awesome job with words in this book. The writing is spell binding and keeps you enthralled. She has suspense and intrique. My view on the content was that she has taken mythology and parts of the Catholic religion and entwined them. Maybe no one else agrees with this, but this is how it struck me. The idea of purgatory comes from the Catholic and that is where the souls go when they are waiting to decide where they shall go for eternity. All in all, I did enjoy this book. The characters were captivating and you found yourself drawn to them.
If you enjoy vampires, guardian angels, and suspense, you will like this book!
Pin It Now!