My Cloth Diaper Stash
is putting together a great giveaway coming up in July! To learn more and sign up you can go to their post found
HERE.
Make sure you tell them that For HIm and My Family or Erin Slocum referred you! THe person who refers the most bloggers will get a wet bag!
Here's a bit of information: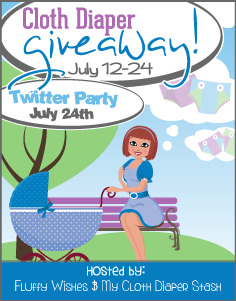 Are
you interested in helping out fluffy wishes with your blog? Sign Up's start at only
$2 each per link on
the Rafflecopter form. It's up to
you...1 or all 5 links! The
funds raised (fees you pay) will
go directly to Fluffy Wishes and their efforts to provide cloth diapers to those
in need.
Facebook ($2)

Twitter

($2)

E-Mail Subscribe

($2)

GFC, Networked Blogs, or Linky Followers

($2)

RSS Subscribe

($2)



The
event will run from July 12-24, and will end with a Twitter Party on
July 24th at 9PM EST. Please come to the twitter party for the announcement
of all the prizes and some special Mystery Twitter Party Only
Prizes as well!
If this sounds like the perfect opportunity for you. Here's how to get started...
Grab the Event button (above) and place it on your blog's sidebar to help spread the word.

Join the

Fluffy Wishes Facebook Group

Page for the latest updates.

Send your payment via Paypal to

fluffy.wishes.diaper.closet@gmail.com

as a personal gift.

Fill out the google document below with all your info.

Add your blog to the linky list:-)
I've entered as a blogger and can't wait to have you guys enter too!! Pin It Now!