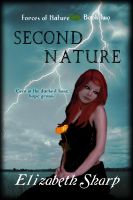 Second Nature
by Elizabeth Sharp
Description (
Smashwords
): Amelia Hoffman always knew she would be with Nathaniel Peplow forever, but after they bonded everything started to go wrong. Nate treats her like the enemy, her siblings are in danger, and an old threat grows closer. As Nate pulls away and Amelia's burgeoning friendship with a handsome stranger blossoms, she worries she made the biggest mistake of her life. If sorting out her love life wasn't enough, a new drug emerges that not only threatens the ones she loves, but seems to be part of something larger than she could ever imagine. Amelia's new and old friends must work together to not only save themselves, but the whole world.
My views: I wasn't sure what to think when I started to read about this book, but it intriqued me so I agreed to review it. I can not tell you how much I enjoyed this book. The author is wonderful. She keeps you in such suspense that you cannot put the book down(ok since I was reading it on the computer I guess you'd say she made it so I couldn't take my eyes off the screen).
This book focuses on the Otherworld- the world of the supernatural powers. You meet angels, demons, gaia, and many more. I normally don't go for books that focus on this sort of thing, but this book was outstanding and it makes me wish I had read the first book in the series before this one!
I highly recommend this book, even if you're like me and this doesn't normally interest you. I will definitely be watching to see if a 3rd book is added to this series and yes I will be checking out the 1st book too.
I was offered a free ebook in exchange for my review. However, the opinions expressed in this review are all my own.
Pin It Now!