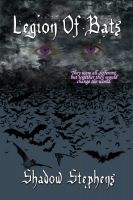 Legion of Bats by Shadow Stevens
Description (
Smashwords
):
In a world governed by fear and corruption, a baby was born and immediately targeted for death. Hidden away in the rural West Virginia town of Tanner, Zoe Masterson grows up feeling like an outsider—just a little different from everyone around her. As bad becomes worse, she is arrested for arson and taken to a mental hospital, where she discovers nothing is as it seems.
My Views: If this book had been a hardcopy, I would have stayed up all night the first night and read it all in one setting! Talk about spellbinding. I think this book put a spell on me and made me have to keep reading. Mystery, intrique, secret identities, guardians, oh my this book has it all! It was one of those I just had to finish! I think all should read this book! Keep this author in mind as I'm sure we'll see much from her soon if this book is any indication.
Disclaimer: I was provided a free e-copy of this book in exchange for the review. The opinions stated in this review are all mine.
Pin It Now!