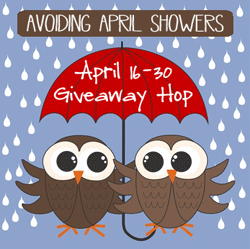 Welcome to the Avoiding April Showers Giveaway Event. This event is hosted by
Put A Little Umbrella In Your Drink
,
My Mommy's World
,
Taking Time For Mommy
and
And The Little Ones Too
. This event features giveaways with a value of $25 or more at each of the participating blogs! Be sure to visit each blog from the linky below and enter for your chance to win! This event will close on April 30th at 11:59 pm EST. Good Luck!
I'm so happy to be a part of this event and can't wait to share my awesome prize with you! I got the chance to review(and offer up for giveaway) the Child Training Bible!
Have you heard of this Bible before? I hadn't until I ran across their page on facebook(
go here)
. I began to look around and went to their
website
to learn more. I was very impressed with what I saw and knew that this was something I would like to try out with my kids. I contacted them to see if they might like to participate in this event with me. I was so wonderfully happy when they agreed. I waited with anticipation until my kit came.
Lets talk about the kit now! The kit includes the instructions to make your Bible, one key card, and three double sided easy tab finders. You can view it on their website by going
here.
From their website I grabbed this description of their Kit
"
This Bible is designed for parents and children to seek answers from God's Word on common sinful problems. Topics include: disobedience, selfishness, anger, complaining and fear. The Child Training Bible makes it easy for parents to bring the truth of God's Word into times of instruction. Simply use the key on the inside-front cover of the CTB to locate the sinful behavior and find the section and color flags to go to. Read the highlighted verses with your child and explain what God says about the behavior that needs to be addressed. With the CTB you can make the most of your time with your children by using Scripture to instruct them in righteousness"
We have not had a lot of chances to use our Bible yet, but I think it is going to be a great resource for not only our children but for my husband and I as well. When we are struggling with an area we will immediately have several places to go to read and contemplate what God has to say about it! How wonderful is that! Right now my kids are all too little to do a lot of the reading/finding on their own, but the color coded system helps them to feel like they are really finding the verses on their own! I give this system 5 stars!
Now, to the giveaway, The Child Training Bible has offered to give away one free kit and I am also going to give away the Bible that we are using with ours(not the same exact one, but one just like it of course) to the winner! I know you're going to love yours like we do. We use the KJV here in this house, so that is the version that will be provided.
a Rafflecopter giveaway
Please understand that Put A Little Umbrella In Your Drink, My Mommy's World, Taking Time For Mommy, and And The Little Ones Too along with the other "Avoiding April Showers Event" bloggers are not responsible for sponsors that do not fulfill their prizes. However, we are responsible for contacting our sponsors regarding the winner's prize at the close of the giveaway. We expect that our sponsors will fulfill their prize agreement and ship them to the winners in a timely manner.
Pin It Now!