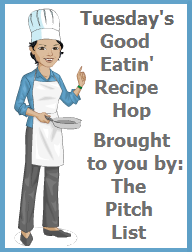 Welcome to the Good Eatin' Recipe Hop
hosted by
The 'Pitch List' Bloggers
Every Tuesday you can join us to share great recipes.........
There are no specific themes.
Add your recipe of choice to the linky.
No Giveaways Please...all giveaways will be removed.
We Love Comments! Please Share!
The

Gluten Free Peanut Butter Sheet Cake

is one of mine that I've posted on the Grainmill website as I'm reviewing one of their mills! Loving it by the way
Pin It Now!