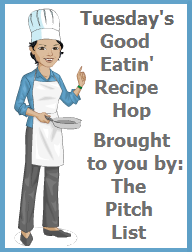 Welcome to the Good Eatin' Recipe Hop
hosted by
The 'Pitch List' Bloggers
Every Tuesday you can join us to share great recipes.........
There are no specific themes.
Add your recipe of choice to the linky.
No Giveaways Please...all giveaways will be removed.
Here is my share recipe! I am sharing my Crockpot Apple Butter. We love this and it is a wonderful fall dish for our new season.
My kids love apples year round, but the fall is a special apple time. If you're lucky enough to have your own trees, go pick them and try some recipes. If not, find an orchard or simply visit your local grocery or farmer's market to find some of your own!
We Love Comments! Please Share!
Pin It Now!