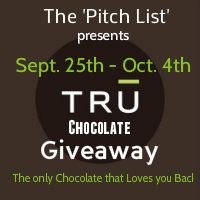 So, I recently tried out a new chocolate. Yes, as many of you know I am a chocoholic. I love chocolate but more specifically dark chocolate.
Tru Chocolate
features organic dark chocolate that is gluten free, vegan, all natural, antioxidant rich and with no artifical preservatives. But there is even more good news! It is made entirely in the USA!! In their own words they "aim to produce and distribute the world's healthiest chocolate made with the purest all natural ingredients and beneficial to every human being on the planet."
Reseable bag holding the goodies.
Nice little package.
Circle of yummy goodness.
They did melt a bit in my mailbox, but a quick refrigeration worked wonders for them.
They were not harmed in the taste department at all!
These chocolates have a unique taste. I can't quite describe it. You have the dark chocolate pure taste plus a little something extra. A little zip, a little zing, and a whole lot of good for you goodness! I did have a slight after tingle effect that let me know I had eaten them. I'm thinking that is due to all the good for yous that they are promoting.
You can find these great chocolates on their
website
,
facebook
, and
twitter
!
These were very good. I hid them from my children. I grudgingly shared them with my husband. But now I want to share some with you! Use the rafflecopter below to enter to win some of your own to try! The prize is 100 pieces of Tru Chocolate for you, retailed at $109.99! Sounds good to me!
Enter on the rafflecopter below to enter in the giveaway, then visit the other blogs on the linky and enter their giveaways to increase your chances to win. Only one winner per household or IP address per Pitch List giveaway.
a Rafflecopter giveaway
I was provided with the above product for review in conjunction with The Pitch List. However, all thoughts and opinions stated above are solely my own and not influenced in anyway. I was not compensated in anyway besides the product received for this post.
Pin It Now!