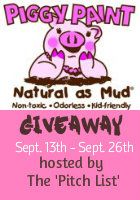 My girls have always wanted to have their nails painted, but I've been loath to paint them. I didn't want to put all those chemically polishes on their fingers and have to use an acetone nail polish remover to get them off. Some of my girls still chew on their nails and I did NOT want them chewing on chemicals.
A bit about
Piggy Paint
. It was the idea of a mom who sounds much like me about not wanting those nasty chemicals going into her kids mouths. But she went one step further in that they put some of the regular kid safe polish on a foam plate(by accident it seems) and the polish ate through the plate! She of course decided not to use that on her girls nails again and Piggy Paint was born. It's a water based nail polish that is free of the major chemicals. From their site "It is free of formaldehyde, toluene, phthalates, biphenyl A, ethyl acetate and acetone... and made in the USA!" Yeah for made in the USA!! You can also find them on
twitter
,
facebook
, and
pinterest
.
Forever Fancy in pen form
You can imagine my joy when I found out about
Piggy Paint
, a non-toxic, odorless, kid friendly, all natural nail polish! Yeah! Before getting a chance to review their polishes I had not seen them in stores. It seems that they are not widely carried yet, at least not in my area.
Angel Kisses, a paler pink
We were given a chance to review two different colors, Girls Rule and Angel Kisses, as well as a basecoat, topcoat, and a Piggy Paint Pen in the color Forever Fancy. I painted my girls nails first, each girl got to pick their own color and I used the pen on the littlest twos nails.
this is the basecoat
The pen was wonderful for little little nails!!! It was so much easier than trying to stay on the nail with the brush. It did feel a bit like I was coloring with a marker, but it didn't leave lines or streaks so I was okay with that. I did not apply the base or top coat on their fingers.
the topcoat(the girls were amazed that it was white but went on clear)
The older three girls got the full treatment. They chose a color and I painted each nail with a basecoat, color, and then a top coat. When I was using the angel kisses we had to do two coats of polish as it is a lighter more see through color.
Girls Rule(I actually almost like this color)
The sad part of this all was that my girl were too busy to sit for pictures so you will have to console yourself with pictures of my fingernails. They chose my colors(please don't laugh). They had me do an every other nail alternating colors plus use the pen on the tips. Yes it is well um colorful. And very girly! I am a blues and greens type girl and they have me in shades of pink!
basecoat applied
alternating the angel kisses and girls rule
added the pen to the tips in Forever Fancy
topcoat applied
up close of the finished product
Doesn't this just look awesome!? I loved how easy these were to put on and the fact that I didn't have to worry about my girls getting sick from the chemicals. Would you like to try them? Make sure to hop over to my
GIVEAWAY
and enter to win your own!
I was provided with the above products to facilitate my review. I was not compensated in any other way than the above products. All opinions and thoughts stated are my own and not influenced in anyway.
Pin It Now!