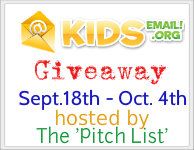 I recently tried out a neat little
email system
for kids. I really enjoyed browsing around and working with the parental controls to know that I can control what my child does and does not see, even in their emails.
My kids aren't old enough yet to have computers or use email, but I think this is a great tool for those that have children who want to email their friends and family. You can choose who goes on the safe list. If they get an email from someone not on their safe list they can't see it until you approve it. You, as the parent, get copies of every email they send and receive.
Some information about their email system that I found interesting and wanted to share:
Allow child to only receive and send emails from those in their contact list
Email a copy of incoming and outgoing messages to the parent
Remove images within emails
Remove links within emails
Only allow specific attachment types such as: images, pictures, video, mp3s, zip, pdf, Word, Excel, Power Point, etc.
Allow a parent to approve or deny any email sent to your children via the mail queue
Filter out offensive words found in incoming emails
Spam filtering
Kids can modify the look and feel of their account by choosing from several fun templates
A simple mode for young children as well as an advance mode for slightly older kids
I believe this is a great opportunity for you to try this out as well which is why in conjunction with the Pitch List I am offering up this wonderful giveaway for one year of free service and a $75 gift card to Amazon! Use the rafflecopter below to enter. Make sure to share away as well!
a Rafflecopter giveaway
Pin It Now!