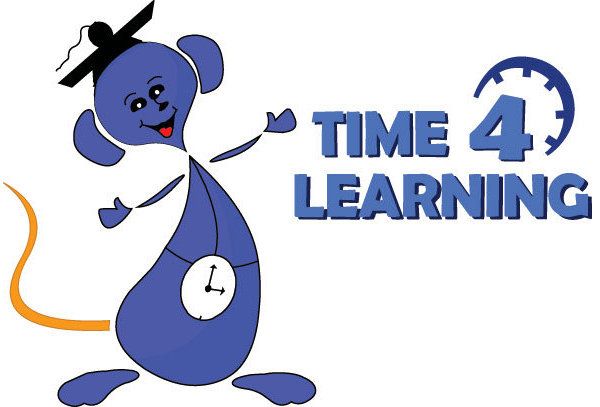 Recently as a member of the TOS Crew Review Team we received a 6 month subscription for free to
Time4Learning
to review. We have been using it with our oldest who is in 2nd grade. She is 8. They offer learning programs for preschool through high school as well so really any student could learn from this site and use it.
Time4Learning covers the five main subjects so really it is an entire curriculum in and of itself. You can use it without having to use another curriculum. We, however, do still like to include Bible as a subject and you don't find that on here. You do have access to math, science, social studies, language arts, and LA extensions.
This online program is student focused so it moves at the pace that the student sets. There are no deadlines or strict standards for how fast a child has to complete the course or how many lessons must be done per week. It's a really simple program that requires very little adult supervision. All I had to do was be available if she didn't understand something or needed help with a word she didn't know. During the very beginning there were some issues with the fact that she isn't extremely comfortable with the computer yet as we haven't done a lot online. That just gets better the more she uses it and she now is pretty much a pro with clicking and doing her lessons.
The cost really isn't too bad. For the preschool through 8th grade courses it is $19.95 for the first student each month and $14.95 for each additional student per month. High school coursework is a bit more at $30.00 for the month which includes four courses. My children are far from being close to starting high school so I really didn't dig too deep into that one. We used the 2nd grade course as we have two children in that grade. All my others are younger than that.
Our favorite subject was math. I say was because I think the course we used last year for math must have been an advanced first grade course as we knew most of the second grade lessons already and she was able to breeze right through them. That most likely is why it's her favorite subject! It's done!
Next was science. Oh my but she loved the Earth and Space section. We hadn't covered that at all in our school yet and she just loved learning about the planets and moon. This was one of those where she'd get done a lesson for the day and need to move on to her other subjects and try to tell me she hadn't done her science yet so she could do another lesson. I would be giggling in my head because I LOVE that my kids love to learn so much. It's a great feeling to know that your child is engaged and interested enough in a subject to want to keep learning even after they're supposed to be done for the day.
Our least favorite subject was reading. She tends to struggle with reading still. This program is very good for struggling readers as it does let them move at their own pace. The "reading" or language arts is divided into two sections. You have language arts and language arts extensions. In the extensions you have 22 chapters that help children work on their vocabulary and building their vocabulary as well as work on learning to write short sentences using proper grammar and punctuation.
Social studies was a good one too as it really seemed to work into what we're doing in school as well. It took her on "virtual tours" really and let her see more of what our monuments and such are like. It went perfectly with the section we were doing on states as well. She liked this and we often brought things out of what she learned on the computer into our school discussions with the rest of the kids.
You can learn more about the entire second grade coursework by visiting
this page
on Time4Learning which gives you an overview. I've tried to highlight some of the specifics that we liked about the program. The only thing to dislike is that it is all on the computer and there are no hands on books. It also requires a computer of course which some families may not have. Our problem would be if we used it with more than one student that we only have one computer and it would not work very well with that set up.
All in all we loved this and recommend to others. Main things, you need a computer and your child needs to have special time set aside to use it. Make sure you're available to help with questions especially for the younger grades.
As members of the Crew Review Team we all reviewed
Time4Learning
but different grades and levels. Crew reviewers can tell you about preschool through 8th grade as we did not review the High School levels though they are available now. Make sure to hop on over to the
Main Crew Blog
and read all the Crew Reviews!
Pin It Now!