Recently we were given the opportunity to review a children's book published by
Greene Bark Press
. This book happens to be a super cute little board book for younger children entitled
Look Left, Look Right, Look Left Again
and teaches children about safety. The book retails for $8.50.
Obviously, being a board book this is geared towards younger children. When I read the book to my kids I had all of my children sit down to hear it. This spans from 3 months(I don't think she got anything out of it at all) all the way up to 8 years. I think all of my children minus the infant actually could get something from this book. Even though I always stress street safety with my kids, it never hurts to reiterate it just that one last time. It might just save their lives one day.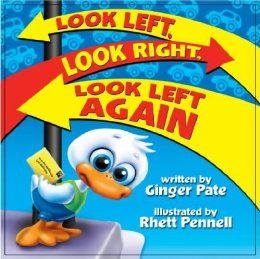 Look Left, Look Right, Look Left Again is written by Ginger Pate and illustrated by Rhett Pennell. It contains cute little pictures to help grab children's attention. It is geared for ages 3-8 which worked well with my school crew as the youngest preschooler will turn 3 in November and the oldest 2nd grader is 8. This book focuses on Wally Waddlewater who wants to mail a birthday card to his Grandmother. Now our mailbox is at the end of our driveway, and we live in the country, so my kids had questions about the large mailbox that many people put mail in as well as why he had to cross a street to get there. My kids are of a curious nature and I have to satisfy them by answering their questions before they could settle down and listen to what the book was actually saying.
Once we'd answered such questions as why he had to cross the street all the way up to what day was his grandmother's birthday(not sure where these questions come from) it was time to read the story so we could understand why we need to stay safe and what staying safe entails.
I loved the simple way they told of street safety and why we must look both ways before and during crossing a street. I do think that we'll have to read this book over and over again before it all sinks in to all of the kids, but for now at least I know that the older ones are going to at least have the knowledge at their fingertips that they should be looking both ways before crossing the street.
Want to see what other people thought of the Wally board book? Simply hop on over to the
Main Crew blog page
and click on the links provided where you will see a list of all participating blogs!
Pin It Now!