We were able to review the download version of the
Light Blue Series
which is the equivalent of Grade 2 Math from
Math Mammoth
. Math Mammoth is a wonderful math program for kids in grades 1-8. Each series comes with all you need to do math with your child for a full year! Our goal is to complete this second grade course over the summer with my two who just finished first grade! How well they do with this will determine if they start 3rd grade math in the fall or do more for 2nd grade. They really whizzed through their 1st grade coursework so I'm thinking I have some math lovers on my hands!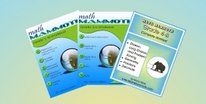 The download version of the Light Blue Series includes two sections of worksheets for the kids to do. These are titled 2-A and 2-B. You can print these or have your child complete them online in the PDF form using the special tools so they can type in their answers! I think that is really neat but with only one computer and two kids doing the work it was easier for me to print them off and make a binder for each child with both packets. Each section was roughly 160 pages printed out which means you would need a binder large enough to hold at least 320 pieces of paper. To make it easier for flipping and adding scratch paper as needed(or extra worksheets) I put each childs sections in a 3 inch binder. You can also access the answers. Also included are the tests, reviews, and a neat program that allows you to build your own worksheets if your child is struggling in one area!
My kids have been using the curriculum for their math for about a month now. We started soon after receiving the download. We are now halfway through the first section and are working with addition and subtraction using numbers 0-18! It's so fun to watch them count out to help them get the right answers without a numberline. Our oldest daughter likes to tap her fingers against her nose when she needs the extra help counting while our oldest boy likes to tap them on the table. I have to hide my smiles and giggles so I don't break their concentration!
The download version of grade 2(which I received) is currently selling for $34.00. With a purchase of the downloadable version through Kagi you also get the Soft Pak program free. The Soft Pak program contains additional resources to use with your second grader! These programs include:
Math Maker- printable worksheets
Math Master- online worksheets that you can print off results sheets for to include in your homeschool records
Math User- 900 multilevel word problems with built in calculator
True/False Math Challenger- math facts presented in true or false fashion(my kids can definitely use this! They're not great with true/false)
Language Arts Master- over 4000 words for spelling and vocabulary as well as grammar help
Test Maker- use this to create personal word lists for your child to use in the Language Arts program
Test Master- online way to take the tests you create
Also available to purchase is the entire light blue series on CD which includes grades 1-6 at a cost of $141.00. The workbooks are available to purchase instead of printing off from $14.95-$17.95 depending on which grade level you are needing.
I also wanted to mention that they offer a free 7 day trial online at their website if you're not sure if the program will work for your children or not.
We are enjoying our journey with the 2nd grade math and can't wait to see what our next week of learning will bring!
Make sure you hop on over to the
TOS Crew main blog post
to see what everyone else thinks of this program. We had people reviewing all grade levels so if your child is past this grade you'll still find a review that covers their grade if they are in 1-8!
Pin It Now!