The kids and I were all excited to try out one of our latest review opportunities. We received two products to review from
Christianity Cove
! In downloadable PDF form we received
Bible Science Experiments
and the
10 Commandments Activity Kit
.
Christianity Cove has over 700 free Sunday School lessons on their blog and 26 resources that they sell online. I know that we loved the two we reviewed and I can see how they would make a great Sunday School curriculum. For us they made great unit studies for use this summer. Make sure to like their
facebook page
for access to a free activity book!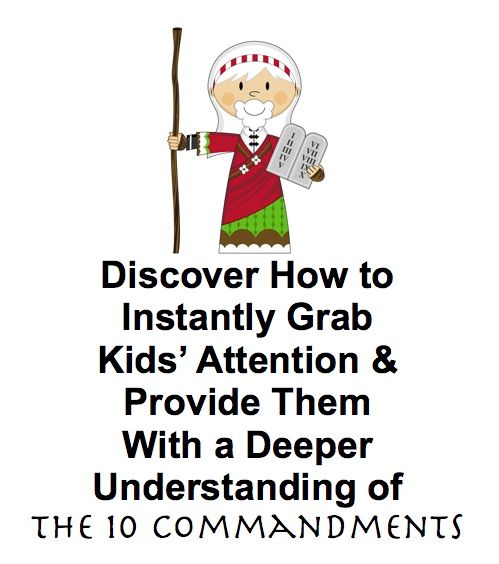 I have been wanting to do a unit study with my kids on the 10 commandments, but wasn't sure where I wanted to start. Well, I decided to start with this great little resource and then add some of my own to it as we go along. I love the activities that come with it!
My kids thought that tracing their feet was awesome. I guess I should explain that we were tracing our feet so that we could write the commandments on them. They were a bit disappointed that they had to use one of my feet for one because we only have 9 children and there are 10 commandments! Yes they even went so far as to ask when we were going to have another with our youngest, little Kierrah Jane, only being 2 weeks old!
The 10 Commandments Kit is designed for ages 4-10, but I do have to say that my two 2 year olds participated and enjoyed it as well. It is a great resource for using in a Sunday School classroom or for a group of homeschoolers. I had no problem using it just with my kids, but I also was using it with 8 kids at once! Right now if you are among the first 250 people to buy this the price will be $27 otherwise the normal full price for this kit is $47. Also, because they are so sure everyone will love this product they offer a full money back guarantee. You have 2 months to use the product and decide if you love it or not.
The second course we reviewed was Bible Science Experiments. It contains 25 experiments for young kids to do to help learn truths about God and the Bible. If you order now it is only $25 for this great product. Normally it is $39.95. It is also geared towards ages 4-10 but I would think you could use it with slightly older and younger children as well. My two years olds were really impressed with the experiments, however, they did not always understand the concepts. The older range of the age group will get the concepts more and get more out of the experiments.
My kids favorite experiment was on how rainbows are made. We love rainbows and who doesn't want to create their own! The verse that goes with this experiment is Genesis 9:13. I love how each experiment has a verse and then a lesson to learn and how it applies to us and the Bible. These are simple and easy for children to understand and hold onto. This is the lesson
"Without God, we're just clear and shallow and boring. With just one drop of God, we're
colorful and dimensional—and fun to play with. "
Honestly, how can you not love something that is helping to instill proper values and knowledge as well as love of God into your children? We love these two books that we were able to download. They contain all you need to know to create the experiments or do the crafts/activities. My kids are begging to redo some of the things and do more fun things such as this. I have a feeling I will be looking into some of their other books just to keep my kids happy!
Want to read about some of the other great products from Christianity Cove? Take a moment to head over to the
Crew Main Blog Post
and check on what other people thought of them! It's a great read!
Pin It Now!