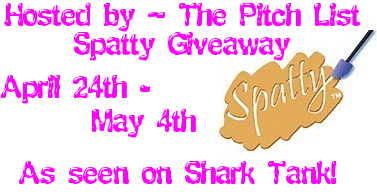 I am one of those people that absolutely hates to waste anything. I hate to waste the last bit of spaghetti sauce in a jar or those last precious drops of ketchup. Believe me, the way my kids eat ketchup that stuff is gold!
The original size Spatty and the Spatty Daddy!
Now I have the perfect solution! I recently got the chance to review
The Spatty
. The Spatty comes in two sizes. A larger longer size and a smaller size. I find myself using the larger size quite often but not so much on the smaller size. I think this is probably due to the fact that we buy most everything in bulk so all of our containers are large! With 8 kids that's the only way to go!
You can see the difference in the two sizes here.
The website also states that you can use it for makeup and lotion, personal care type items, but so far mine has not made it out of the kitchen. I might start using the smaller sized one for that since it doesn't get used much in my kitchen. It is the perfect size to stick into a bottle of lotion or shampoo.
Like what you're seeing with The Spatty? You are in luck and can enter to win one of 10 sets being given away as well! Just enter on the rafflecopter form below. I am not responsible for shipping this prize or for choosing the winners.
a Rafflecopter giveaway
Pin It Now!