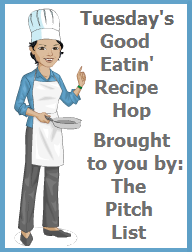 Welcome to the Good Eatin' Recipe Hop
hosted by
The 'Pitch List' Bloggers
Every Tuesday you can join us to share great recipes.........
There are no specific themes.
Add your recipe of choice to the linky.
No Giveaways Please...all giveaways will be removed.
We Love Comments! Please Share!
This week as I wait for my little one to make her arrival I'm sharing my

Lemon PoppySeed Bread Recipe

. Taken from a family recipe I've made it gluten and dairy free! Enjoy!
Pin It Now!