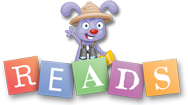 I had never heard of the
EGM Educational Systems LLC
until they offered up their
READS
program for review. I of course had to look into it for my kiddos. I am very glad I did!
Elaine(the founder of this program) wanted to make something that would help reading comprehension in children as well as help them to become more confident and stronger learners. READS is designed to help children in grades 1-4 and costs $19.95 for the bundle described below. You can purchase additional bundles that include everything except the parents manual for $17.95 for any other children you have who might benefit from the program.
Our READS came all nice and neat in this bundle.
READS (Really Easy And Dynamic Strategy) includes:
a parent's manual
question cards on a ring
reward chart and stickers
reading guide strip with a magic finger
speedy speller
reusable sealable pouch
The bundle all "un-bundled"
The question cards on a ring were used by my kids to help understand the stories we were reading. We used them not only for our stories and books for school(both read alone and read aloud) but also for books that we read as a family. Several of the questions were ones that we already asked our kids, but some were ones that I hadn't even thought of. Our oldest was already picking these elements out of the stories as we read, but knowing that they were going to be asked these types of questions helped our other slightly younger children listen better to the stories and pick out the most important parts. No longer do I just get "I don't knows" out of certain littles! This makes me as their teacher and mother very happy!
I have found that my children do well with reading strips. It helps them to focus on the correct line in their reading and we're not so helter skelter all over the place with our eyes. We had never tried a magic finger before so this was new to us. Of course, all of the kids wanted to be the first to try it out. A few had too much fun playing with the finger and forgot that they were supposed to be reading, but the two in the higher grade did really well focusing and using the magic finger.
I think my favorite part as the parent is the Speedy Speller book. Almost every letter has it's own page full of words for your little one to learn. We have our own spelling curriculum, but I've very much enjoyed using this for other words that my children should know by sight. I think this will be used as a sight word study for my kids this next school year just to help them learn all these words. Also included are common abbreviations that all children should know such as the United States of America state abbreviations and also their state capitals. You also are provided with common abbreviations for days, months, weights, and measure. An added bonus is that it shows both metric and US measurements.
Make sure to visit the
main Crew Blog Post
so that you can read other reviews of this amazing product. A total of 40 Crew reviewers were able to try out this bundle.
Disclaimer: I was provided with a copy of this curriculum for free in association with the TOS Schoolhouse Review Crew. I was not compensated in any other way besides this curriculum. All thoughts and opinions in this review are my own and not influenced in anyway. I was not coerced
to write a positive review but rather wrote my own thoughts(or those of my children) on the curriculum. I am disclosing this to be in compliance with the FTC Regulations.
Pin It Now!