The long awaited Fluffy Wishes Giveaway and Twitter Party has finally arrived! We have tons of great prizes to give away, and all for a great cause. Many sponsors and bloggers have teamed up with

Fluffy Wishes Cloth Diaper Closet

and

My Cloth Diaper Stash

to help host this giveaway!
Fluffy Wishes Diaper Closet
is a cloth diaper lending service serving Southwest Michigan and newly expanding to Indiana! Fluffy Wishes provides cloth diapers to low income families who can not afford to diaper their children, or have to make the choice between diapers and the basic necessities in life. Fluffy Wishes runs completely on volunteers and donations. There is no cost to families who are approved for the program.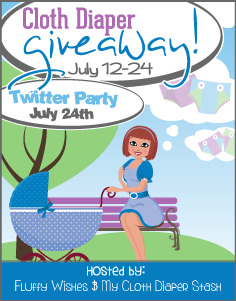 Here is a list of sponsors who made it all happen:-)
1 Bumkins Pocket Diaper
1 Bumkins Cover
2 FuzziBunz Elite's
2 Kawaii Heavy Wetter's
1 Thirsties AIO
1 Thirsties Fitted
2 Best Bottom Shells
2 Microfiber Inserts (1 Medium, 1 Large)
1 Changing Diapers Book
FuzziBunz Hanging Diaper Pail
Cutey Baby Wet bag
Rockin' Green Sample
Jar of Mother's Love
4 Bububibi Bamboo Pocket Diapers
1 Go Green Champ 2.0
OTHER PRIZES INCLUDE:
Some Notes About this Giveaway:
Enter on the Rafflecopter form below. There are no mandatory entries, but the more entries you have, the greater your chances of winning. Remember that there are tons of prizes to be given away, so that increases your chances even more!
In order to be eligible for the Mystery Twitter ONLY Party Prizes, you still must enter on the Rafflecopter form below, but you must also tweet at least once during the twitter party on July 24th (9-10pm)
All prizes will be announced at the Twitter Party. All winners will be contacted by the e-mail provided on the Rafflecopter form.
Open to US and Canada
a Rafflecopter giveaway
Pin It Now!